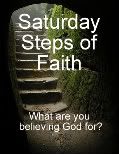 Join Lisa today for more Saturday Steps of Faith!
Romans 8:38-39 For I am convinced that neither death, nor life, neither angels, nor demons, neither the present nor the future, nor any powers, neither height or depth, nor anything else in all creation, will be able to seperate us from the love of God that is in Christ Jesus our Lord.
These are my life verses. It is always so comforting to realize that no matter what is happening, or what I do, I cannot be seperated from His love. His love has no begining and no end! That is difficult to wrap your brain around when you live in a world where love is so fleeting. I hope that this verse will bring comfort to you today as we walk this sometimes weary road!
Thank you Jesus, that nothing can take your love from me!